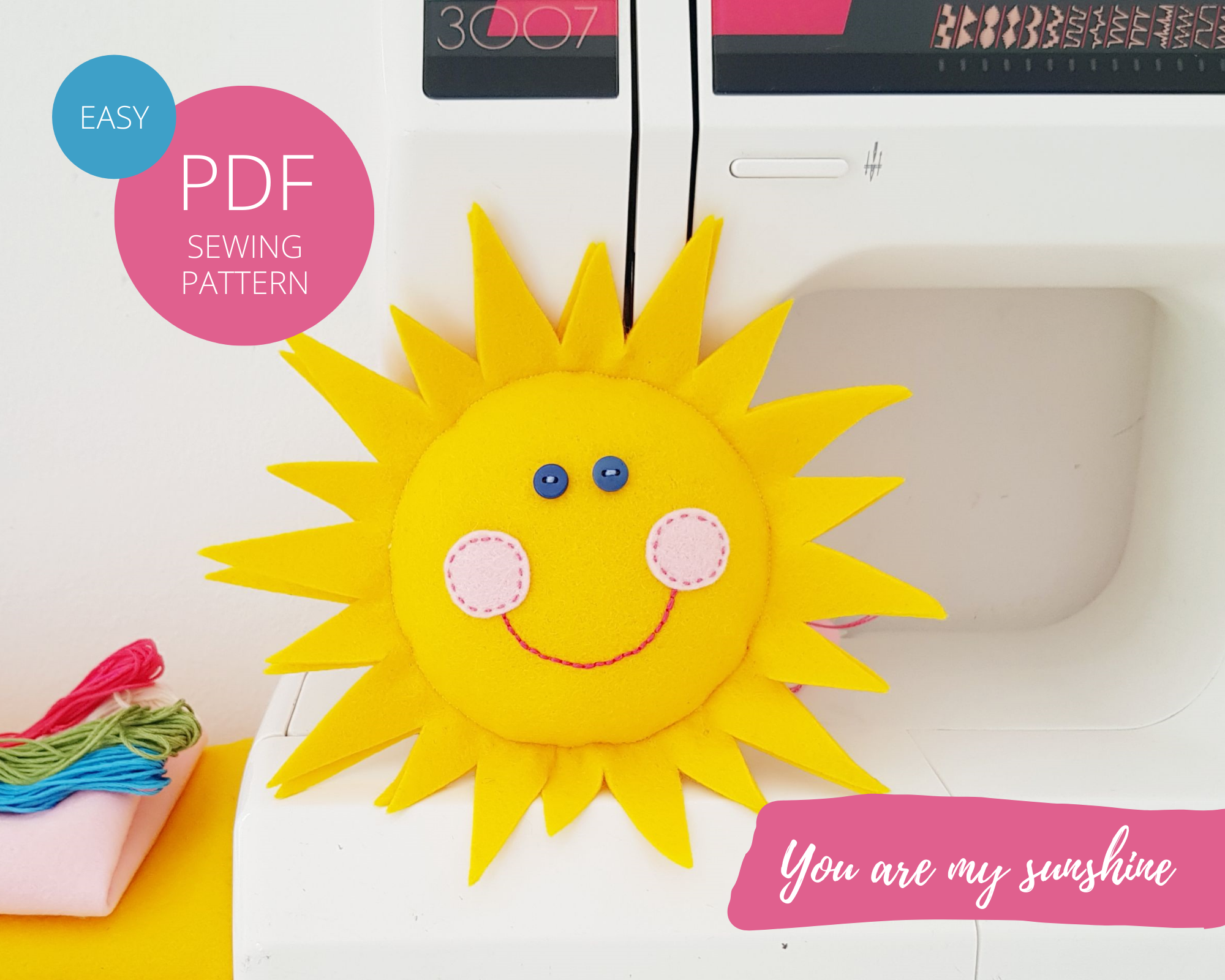 ---
? Hello, lovely! My name is Sunny, and I would love to be your sunshine. I am always cheerful, and I try to look for the positive side of life. Don't complicate, be as simple as possible is my motto. Would you like to be my friend?
---
The sun pillow with smiley face and embroidery "You are my sunshine" on the back, is my easy-peasy sewing and embroidery project, and also one of the cutest!
I love this sun pillow's bright colors, big smile, and cute message at the back.
As it is looking at me while I work, it makes me feel warm it makes me feel good, life is good! You have to smile back to him. :)))
It heats me, how something can be so simple to make when you know how to, and yet can look so beautiful and professional.
Why would we complicate things if we don't have to? Right?
If you would like to give it a try, check my Etsy shop.
There is beauty in simplicity.
You are my sunshine!
---
Are you looking for a cute idea to sew for a kid's gift?
Baby's gift?
Something thoughtful to cheer someone up?
Maybe you have a kid or grandchild that loves crafts – this will make great kids sewing and embroidery project for them. Just show it to them. 🙂
---
Want to know more about the Sun pillow PDF pattern and tutorial?
---
✂ Finished size (approximately)
19 cm x 19 cm / 7.5 in x 7.5 in
✂ Time needed
1 -2 hours for beginners (sewing & embroidery)
✂ By making this adorable sun, you will learn:
backstitch embroidery stitch
how to transfer embroidery to the fabric
what is the difference between wool and acrylic (craft) felt and which is better for making soft toys – can you guess?
how to stuff the toys correctly
and other small tricks.
✂ Materials needed
Yellow wool felt (21 cm x 42 cm / 8.5 in x 17 in)
Light pink wool felt for the cheeks
Embroidery thread: dark pink, blue, green, orange, white
2 small blue/black buttons or 2 small circles of black felt for eyes
Yellow sewing thread
Toy or pillow stuffing
Dark transfer paper
---
Join me, let's sew this joyful sun pillow that brings light and happiness together
? Get your copy of Happy Sun PDF pattern and tutorial.

?? Follow the detailed step by step instructions.

??? Make the happy sun unique by filling it with your love, positive energy, and good wishes.
---
Stay safe, help to share light and love. ?
Maya
p.s. If you liked this project, you might also like this cute joyfull happy star pillow.