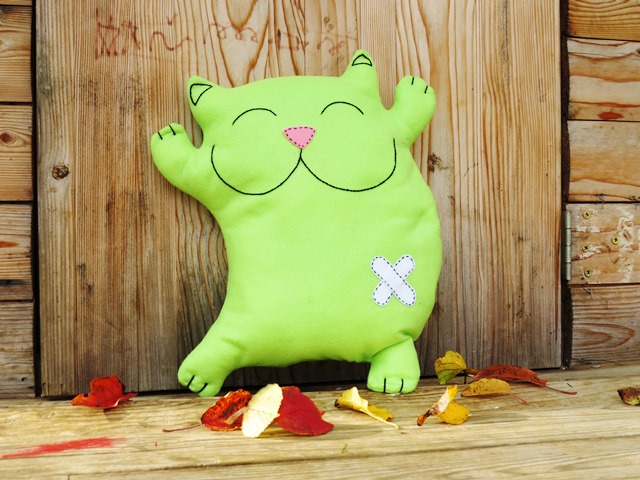 Our cat got poisoned three weeks ago. We do not know where and how since she runs freely around the house throughout the day when we are at work and at school. It was a really close call. If it wasn't for one veterinarian, who really did everything she could think off to help it, our Mau probably wouldn't survive. This cat pillow was part of my way to thank her from the bottom of my heart.
"In a gentle way, you can shake the world."
― Mahatma Gandhi
I really am thankful to people that do their jobs from their hearts, not just because they have to but because they genuinely care and love their job.
It had to be a cat
When thinking of the way to thank her, and knowing she loves animals, cat in some format was an obvious choice. Since I love to sew, I decided to sew one at the end.
In search for idea
Since I was a little short with the time I first looked for inspiration on the web, and this happy joyful cat was so cute I immediately knew, I have to make one. The idea and pattern were found on Craftsy, contributed by Irishagold, where you can also download her free pattern for " Toy-Pillow Happy Cat "Positiff"".
Sewing the cat pillow
Really simple project with easy sewing and some embroidery, completely appropriate for beginners' who are learning to sew. The only thing I added is a patch on cat's tommy; to illustrate how happy our cat is now that is cured.
Thank you gift
The cute happy cat pillow was given to veterinarian by my youngest, with some chocolate and a big thank you from all of us for all her efforts, care, and dedication. We are just so happy that our cat, the kindest, gentlest, and the smartest cat on the world is ok now.
Do you have any additional ideas how to make this cat pillow even more joyful? Feel free to use the comments section below to share your thoughts and ideas.
If you like this cat pillow, please share it with your friends on Facebook, Pinterest, Google Plus, Twitter or Instagram.