The block was my first idea that came to my mind when my ten years old son came to me with a wish to sew something that wouldn't be flat, but more 3D. Blocks sewing is as a great beginner's project and there are so many ideas one can play with.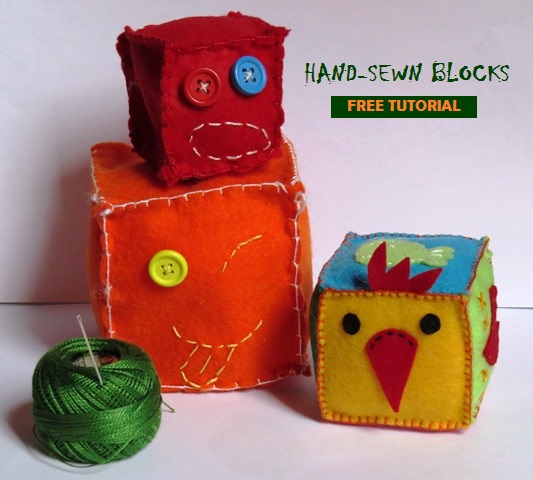 Hand sewn blocks are not just a gift for babies
Yes, soft blocks can be a great baby gift, which is true. They can be a toy for a baby to discover and play with as well as a nice decoration in the baby room. Cubes can be turned into animals, alphabet, or sensory toys.
Sewn soft blocks can be a gift for older children as well to be used as part of the party game. How much more fun it is to throw really big, soft, sewn dice rather an ordinary small one when playing the Ludo game?
Lastly, sewing a cube is a great idea, the project for beginners and children learning to sew. And that was us.
How to sew a block by hand?
1. Cut 6 squares of the same size from the fabric and decorate them leaving room for the seams around the edges. If you are making a block for a baby or small child, I wouldn't recommend using buttons as I did and would make sure everything is really tightly sewn on the squares. Not everything needs to be flat; you can add the third dimension by putting a little stuffing beneath parts you sew on the squares. Additionally, you can prepare parts of the body like ears or hands that will stick out of the block. These you will sew on in the fourth step. For material we have used felt since it is a great material for beginners learning to sew (sturdy, not frying); but for babies firm cotton or fleece might be more appropriate since small kids are putting everything into their mouths and felt might not be the best choice.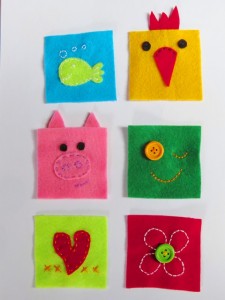 2. Place the squares as you would like them to combine at the end.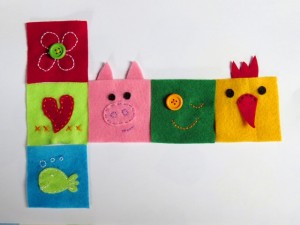 3. Sew together the middle four squares using the blanket stitch. It should look like this when you are done: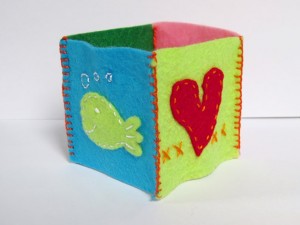 4. Add the top and the bottom square, leaving the last side of the square open to fill the cube with filling. You can add a rattle inside to make it more fun.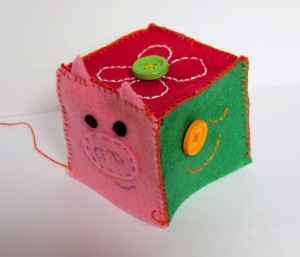 5. Close the opening using the blanket stitch and make sure that all knots are well hidden. That's it. Quite simple, wasn't it?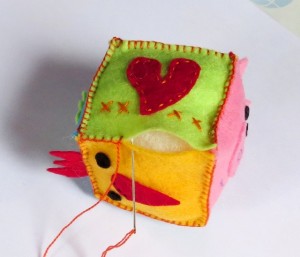 This is how I saw blocks together with my son. We had a great time creating together and he didn't need any help at all. Wish you all many colorful, happy, sewn blocks.