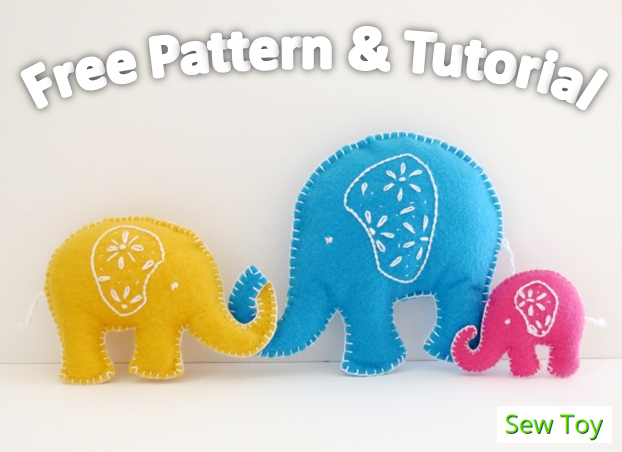 Would you like to have more good luck in your life? Who wouldn't! This was my thinking. When the babies are born, we send a greeting with a wish for good luck in their life. We wish good luck at birthdays, holidays when going somewhere or attempting something new and important. Thinking about that for a while naturally lead me to the worldwide excepted general symbol for good luck, the Elephant. The elephant is the symbol of power, strength, wisdom, and stability. Since my good friend, big elephant lover as I found out later, just had a birthday, I made a cute little elephant brooch for her, to pin on her clothes, bag, or anywhere else she will desire.
Although this is a tutorial for sewing a "toy" for us, big kids, this doesn't mean the enlarged pattern cannot be used for sewing a kid's plush.
Material you will need
Felt
Embroidery floss
Filling
Brooch pin
How to steps
Step 1
Copy the free elephant pattern. Final elephant made by this free pattern is 6 cm / 2,4 inches long and 5 cm / 2 inches high, and it has a trunk up since the most common belief is that the trunk has to be up for good luck.
Step 2
Transfer the pattern to the felt. I like using a thick marker since the color disappears by itself after a day, if wetted disappears immediately; therefore the outline will for sure not be visible on your final piece of art. Cut out two pieces.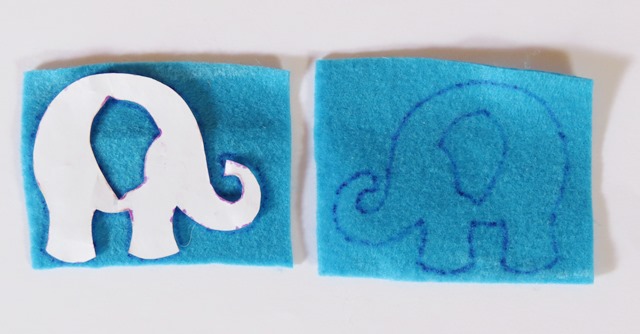 Step 3
Take one piece that will be the front one. This will define which side the elephant will be turned at the end. Using stem stitch sew on elephant's ear and fill it up with decorative stitches.
Step 4
Put both pieces together facing wrong sides together. Start on the elephant's back, and sew both pieces together using the blanket stitch. Stop 2 cm before you are done and fill the elephant with filling and good luck wishes. Fill firmly. I help myself with wooden sticks and cannon scissors. Sew an eye and add a tail.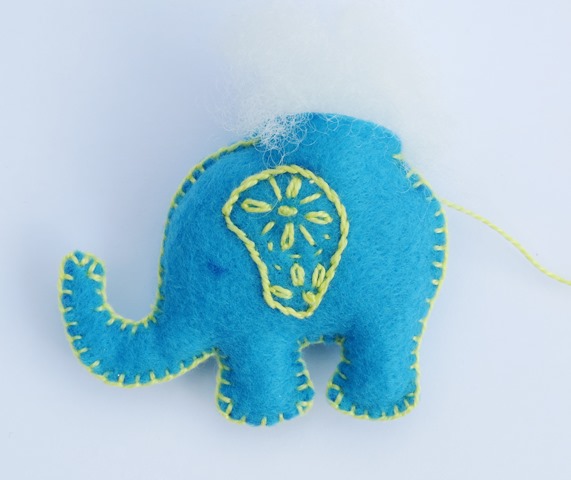 Step 5
Sew brooch pin on the back, and you are done. Without a brooch, it can be a nice decoration to a baby shower gift.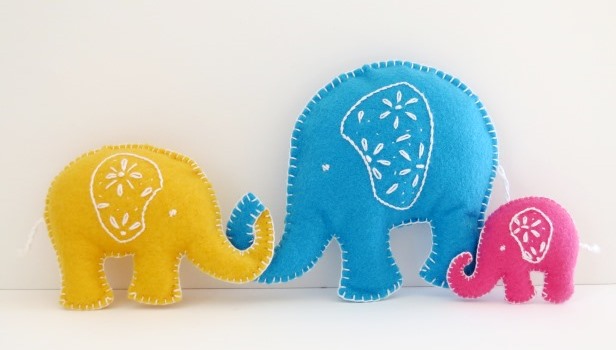 As important as is that elephant is neatly sewed, filled with love, and attention, the way you will gift wrap is just as important. Take time for that as well, and make the person feel the luckiest person on the whole world for having you for a friend.
I wish you good luck and a lot of cute little elephants.