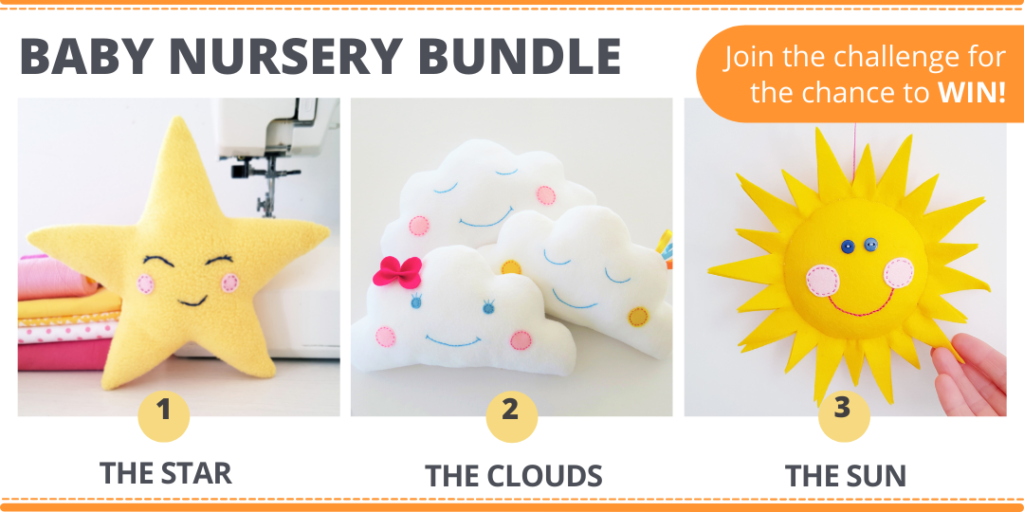 Share with us a photo of at least one SewToy friend you made in the past for the chance to win a Baby nursery bundle that includes three of my super cute and easy-to-make sewing patterns: the star, the sun, and baby clouds.
It is always so amazing to see how the SewToy family is growing and how beautiful and unique all of your masterpieces turn out! So we decided to do this challenge, to meet you and all SewToy brothers and sisters you make.
If you decide to join us, this is what you could win!
---
Baby nursery bundle for three sewing patterns (the sun, the star & the clouds)
I chose these three cute friends because they will not only look super cute in any baby nursery, in baby boy or baby girl nursery, but babies will love them because:
👶🏾 They all have happy smiley faces that babies love,
👶 they are made from cheerful, contrast colors, which babies can see well and will therefore naturally attract their attention,
👶🏼 and designed for small hands – super easy to grab & hold, plus they are interesting & fun to investigate with little fingers.
These three make wonderful stuffed toys, babies' first soft friends, and at the same time, used as decor, will bring joy and light into every nursery.
All three sewing patterns come with detailed step-by-step photo tutorials with beginner sewers in mind.
Click here for more information about the bundle and sewing patterns that I included >>>
---
How can you participate and have a chance to win the Baby nursery bundle?
Do send me a photo of one or more SewToy friends you made in the past, or you will make it until the end of February 2022 to [email protected].
You can also share it directly on our Facebook page here or share it on your Instagram profile and tag me @sewtoydesign.
You can enter one or more sewn SewToy friends' photos. Each different Sewtoy Friend counts as one entry for the final draw.
As this is the first time we are doing this, you can also enter the photos that you shared with me in the past.
By sending me photos, you guarantee that you made those toys, and you give me the right to share them on my communication channels together with your name. I can add a link to your webpage, blog, Facebook, or Instagram profile, too (if you wish).
I will select the winner who will receive the baby nursery bundle (sewing patterns for the star, the sun & the clouds) by a random draw on March 6th, 2022, and announce the winner on the SewToy web page, Sewtoy Facebook, and Instagram channel.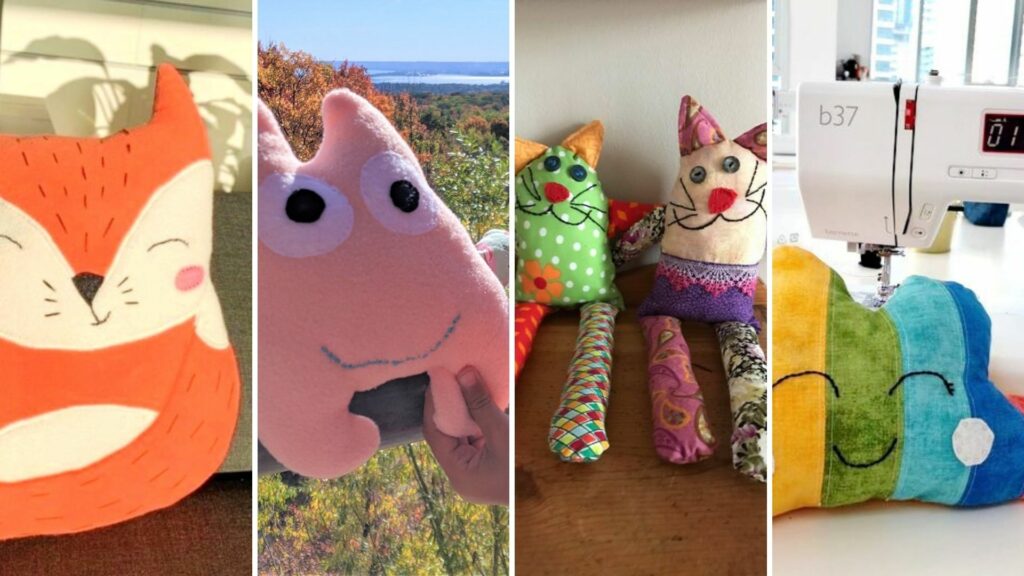 📸💖
Grab your phone, take some cute photos of your little SewToy masterpieces and send them to me by the end of February 2022!
The whole SewToy family is looking forward tremendously to meeting you and all SewToy brothers and sisters you made.
Happy sewing and magic creating!
Maja & Sewtoy friends 🦊🐻🐶
---