Sailboat sewing pattern with instant download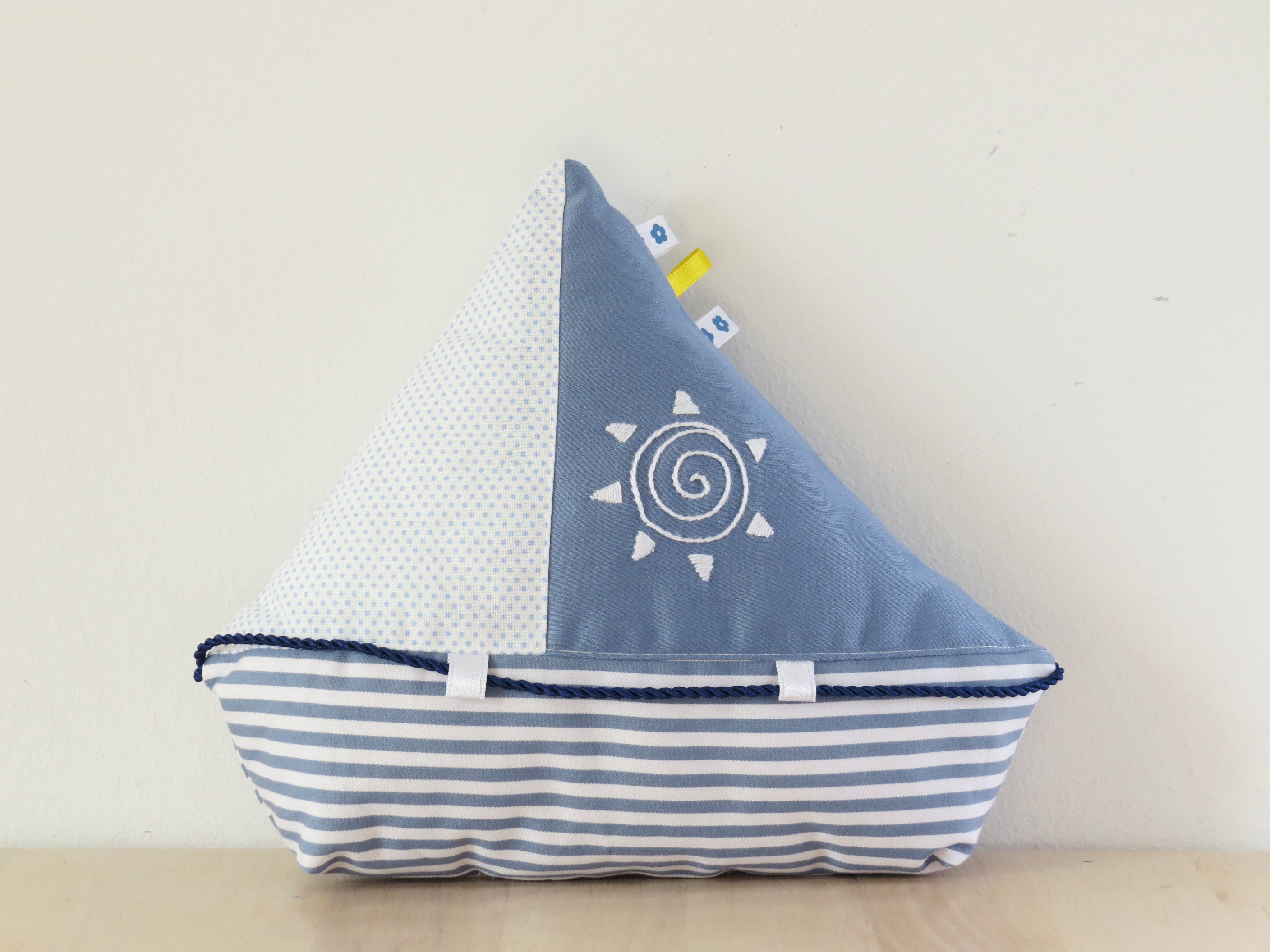 ~~~~~
I had a little sailboat,
Its decks were new all painted blue.
I had a little sailboat
and sailed it on the see.
~~~~~
About the sailboat sewing pattern
This sailboat sewing pattern is inspired by my two boys, who are just as crazy about everything connected to the sea as I am.  It is my own design. With embroidered sun on one side, happy colorful flag on the top and safety rope all around the deck, it looks like the real sailboat. Unlike many patterns, this sailboat has a flat bottom, so that the sailboat can stand by itself on the shelf when not in use.
With all these features it is interesting for little fingers to discover and for the big sea lovers to admire.
I designed it in sea colors, in white and blue combination, with the touch of the warm sun. It will look great in a nautical-themed room, nursery, boy's room or beach house.
Easy, appropriate for beginners
I have designed this sailboat sewing pattern boat to be as EASY to make as possible, so don't worry, even if you are a beginner with basic sewing skills. The pattern has step-by-step instructions and plenty of pictures which make it very easy to follow. It includes sketches of the stitches used and a list of materials and tools required.
The pattern consists of 11 PDF files in A4 format, seven of them with the detailed instructions and three of them with the templates. The templates are ready for print, no need to resize or enlarge them.
To make sure the instructions are easy to follow and understandable, I have tested the pattern on my 11-year-old son and he made it through. 🙂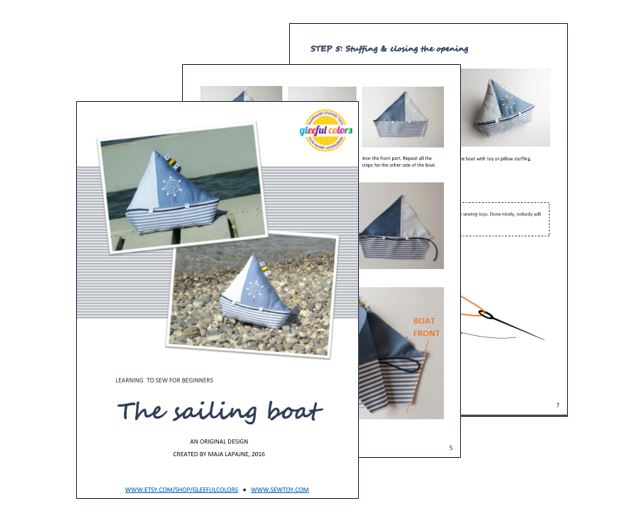 Sewing & learning
As you make your sailboat, you will LEARN the basics of how to make your own simple soft toys and you will pick up a few TIPS & TRICKS on the way. You will learn:
– Basics of soft toy making
– The best stitch for closing stuffed toys and pillows
– Basic embroidery stitches
– How to make flat bottoms.
Materials you will need
Materials, you will need for sewing this 10 1/4 inch x 8 1/4 inch (26 cm x 21 cm) sailboat:
– 3 different cotton fabrics that go together nicely
– decorative rope
– decorative ribbons
– embroidery thread
– toy or pillow stuffing.
You will also need: sewing machine, thread, pins, needles, scissors, trick marker or chalk
Support
As my customer, you will get MY FULL LIVE SUPPORT if you get stuck for any reason, just convo me on Etsy and let's find the solution together. This offer is valid for the first 10 customers only.
It would be great to have you on board, having fun sewing & learning together.

PLEASE NOTE: the purchase of this pattern gives you the right to craft and sell items made from it, online or at craft fairs. However, mass production, resale, and distribution of pattern pieces and instructions are expressly prohibited.
Please, give credit to Gleeful Colors as the original designer and add a link to my shop in any written description. Thanks!
Comments