CUTE AND COLORFUL BABY BLANKET AND TOY ALL IN ONE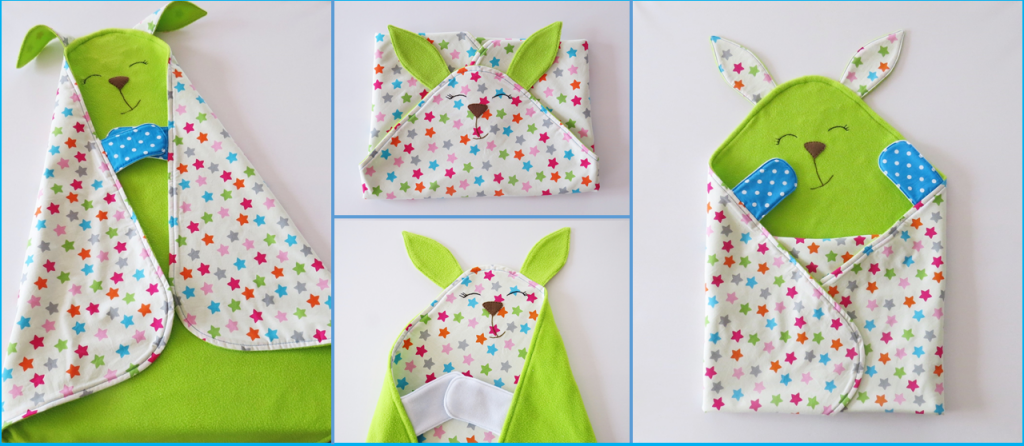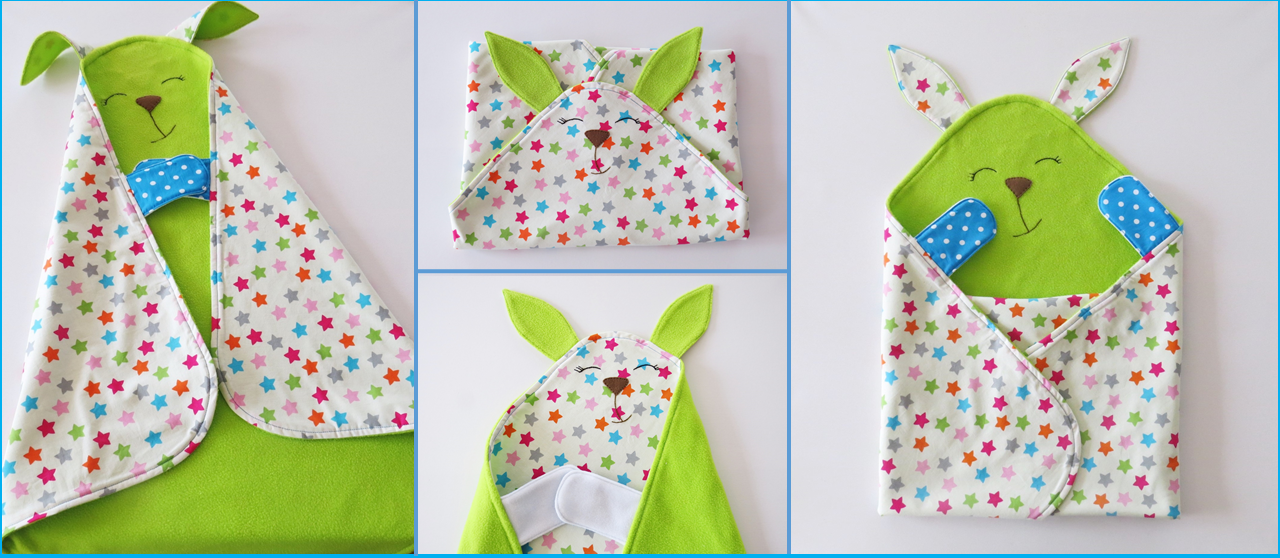 Cute and colorful baby blanket and toy all in one is one of those creative ideas that are fun to make, even though  you absolutely don't have any need for them. My boys are definitely not babies anymore and baby boom among my friends seem to be over at 40+, but I still love making new things for the little ones, just for the heck of pure fun. This is the whole story behind how this baby blanket pattern and the tutorial was created. And yes, it was fun. 🙂
My new two in one baby blanket is cheerful, soft, with upright ears, hands for hugging and snout for cuddling. One side is made from soft bright spring green fleece, the other from 100% cotton with happy colorful stars. You can turn this baby blanket on one side or another, whatever suits you best at that moment. I can imagine my boys, when they were babies, how they would carefully explore the stars on the ears with their little fingers, the brown snout, handmade embroidery, dots on the hands noticing  the difference between soft fleece and colder cotton.
If you like this cheerful blanket and baby toy all in one, this is how you can sew one just like this on your own. Step by step. No worries, if you are a total beginner, this is a really easy project to start learning how to sew.
Degree of difficulty
EASY project, appropriate for beginners
Time needed
1-2 hours
Material you will need for sewing this baby blanket and toy all in one
a soft anti-pill fleece fabric for one side of the blanket and ears
matching light cotton fabric for the other side of the blanket and ears
a piece of anti-pill fleece for hands
a piece of cotton fabric for hands
brown embroidery thread
a little piece of wool felt for the snout
How to steps for sewing baby blanket and baby toy all in one
Step 1: Prepare base for baby blanket
Cut a square 75 cm x 75 cm (14.5 inch x 14.5 inches) from the fleece fabric for the blanket. Pin the fleece fabric on the cotton blanket fabric right sides together, making sure, there are no wrinkles. Cut the cotton fabric, so that you have two squares 75 cm x 75 cm (14.5 inch x 14.5 inches) right sides together pinned together.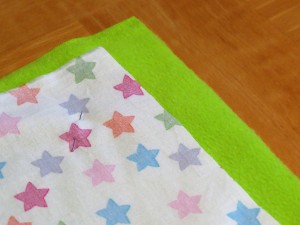 With the help of an ordinary plate, mark edges for the rounded corners like on the picture. Cut the corners. This is the base for the baby blanket.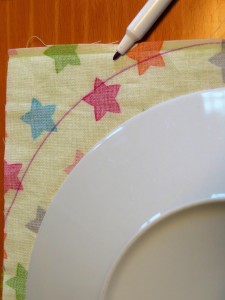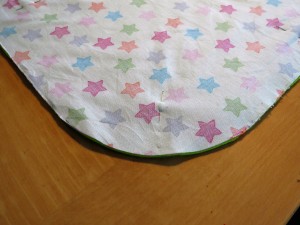 Step 2: Sew ears and hands for bunny baby blanket
For ears and hands, first cut 2 ears and 2 hands from the cotton fabric, using my free pattern. Cotton pieces place on the felt fabric right side together, pin and cut. To sew cotton piece and felt piece together, the cotton fabric should always be on the top. Since fleece is more elastic, this will make sewing it together without wrinkles much easier. Don't forget not to sew the bottom part, since you will need it open for turning the hands and ears around.  Turn and topstitch them. For topstitching, I have used a blue thread to make the seams more visible.
Note. Before you turn the ears around, cut off the top: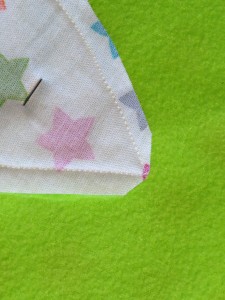 Step 3: Create bunny's happy faces
Unpin the base for the blanket in one corner, wide enough, that you will be able to sew the face on the right sides of the fabric:
Repeat this on cotton and fleece fabric.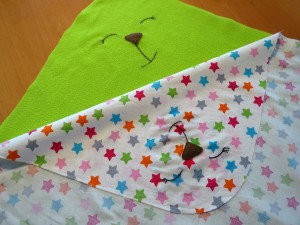 Step 4: Sew the bunny baby blanket together
Place the ears and hands on the right side of one fabric and then cover everything with other fabric, just like seen on the picture, so that right sides of the blanket are faced together. Pin. Sew the blanket together leaving an opening (approx. 10 cm / 4 inches). Turn the blanket around through the opening. Before you topstitch the blanket approximately 0,5 cm (2 inches) from the edge, make sure all the edges are aligned nicely.
And this is it. You have made your own cheerful baby blanket, you can use on both sides. On the soft fleece side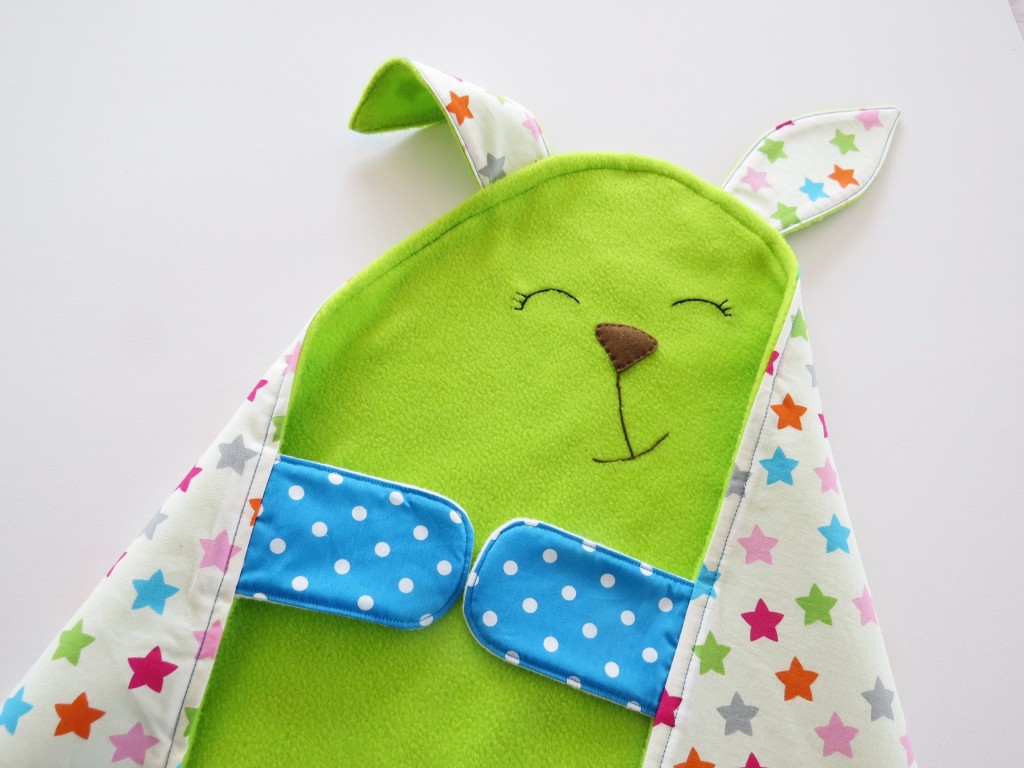 or on cotton side.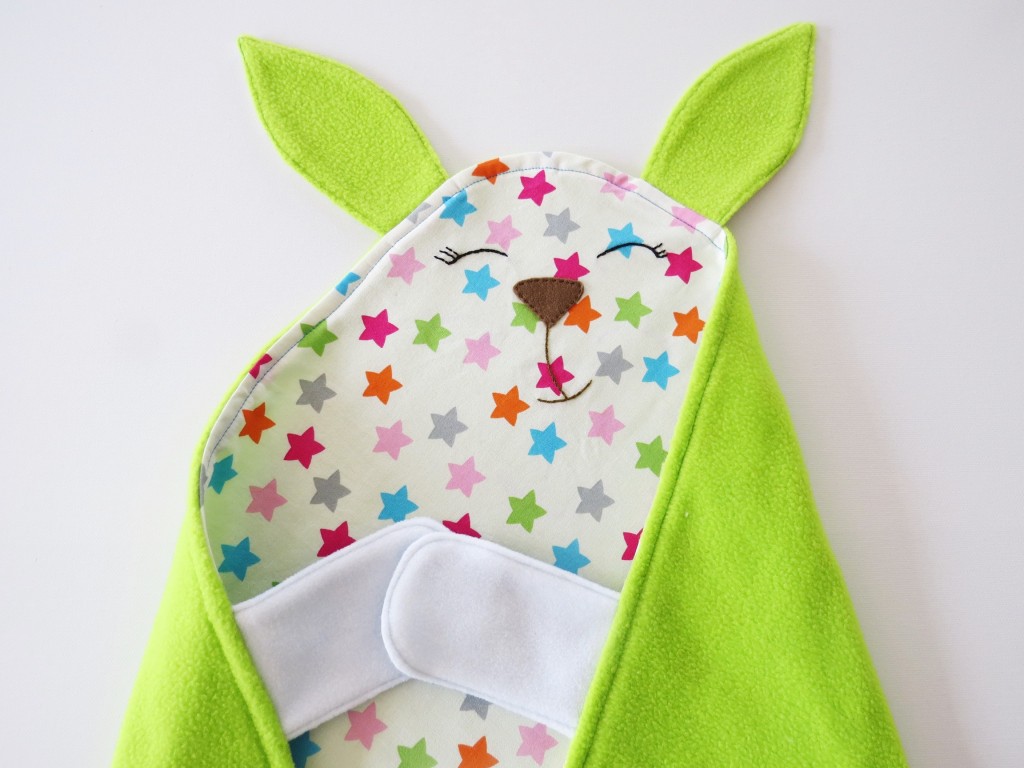 You can fold it together nicely.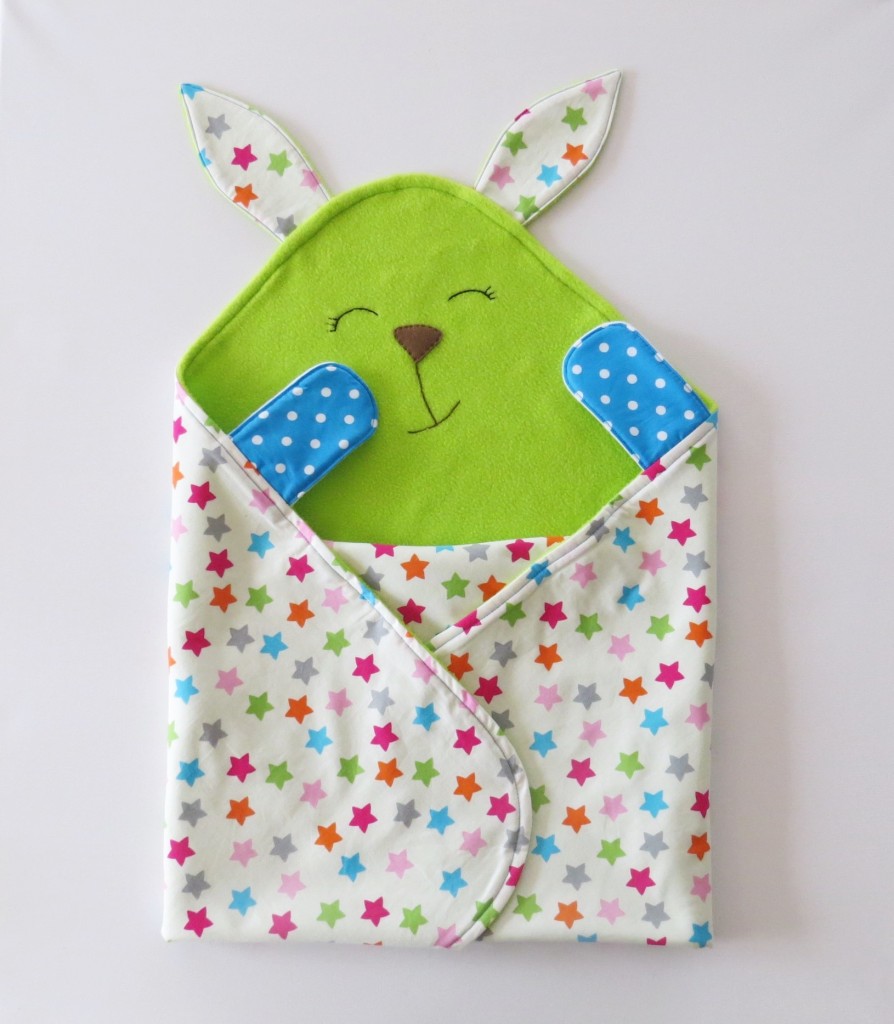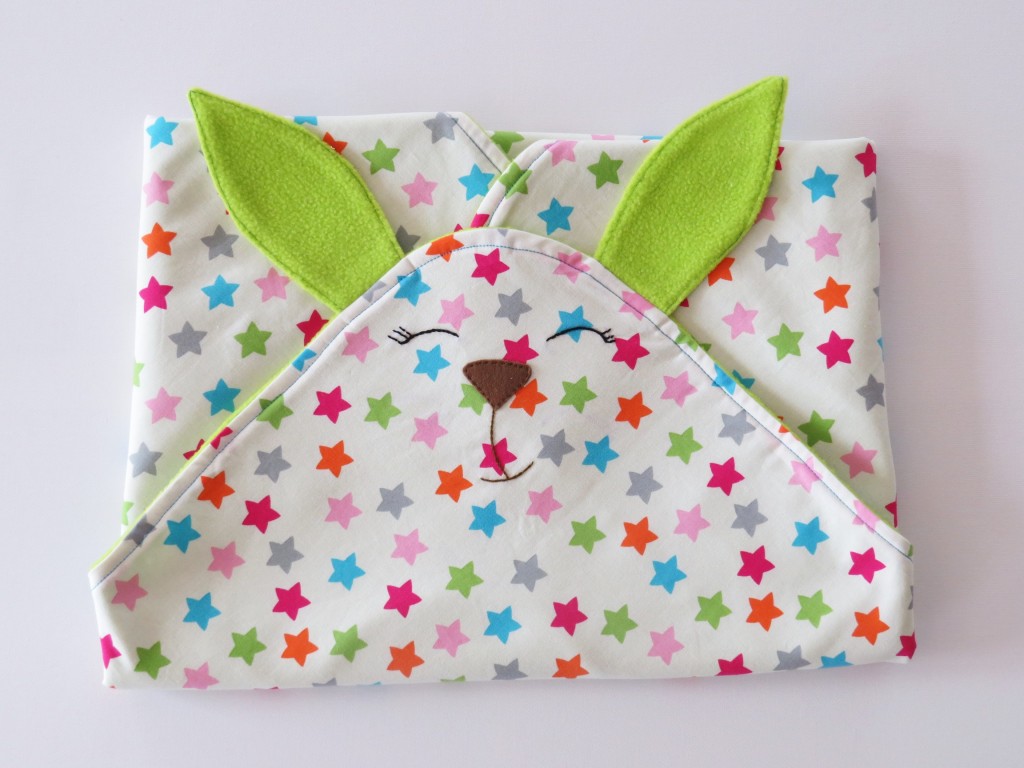 How did it turn out? Satisfied? I hope you are. I know, I am curious, but  would you share your creation with me here, on Facebook, Google+ or Instagram for me and other sewing enthusiasts to see it?
Wish you lots of fun with your creative projects,
Maya
P.s. If you really like this cheerful baby blanket, but you don't have time right now to make one or are still not convinced, that this is a really easy project, I have this teddy bear baby blanket available in my new Etsy shop Gleeful Colors.

Comments